(BGF) – Professor Ezra Vogel, Henry Ford II Professor of the Social Sciences Emeritus at Harvard University received Distinguished Service Award on April 6, 2012 at its Board Meeting in Washington, DC by the the United Staes – Japan Foundation for his lifetime commitment to promoting friendship and understanding between the peoples of the United States and Japan and for his life-long commitment to developing scholars of Japan and Asia. 
Professor Ezra Vogel is also a Mentor of Young Leaders Network for Peace and Security, a body of the Boston Global Forum whose purpose is to identify the most impactful issues facing the world and provide practical and meaningful solutions to these problems.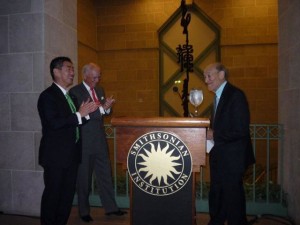 Professor Vogel receives the Distinguished Service Award from Foundation Chairman Thomas S. Johnson and Trustee Yusuke Saraya.
Previous Distinguished Service Award recipients include: Honorable Yasuhiro Nakasone, Prime Minister of Japan 1982-1987; Ambassador Thomas S. Foley, US Ambassador to Japan 1997-2001; Ambassador Yoshio Okawara, Japan's Ambassador to the US 1980-1985; Mr. Tadashi Yamamoto, JCIE Founder and President; Ambassador Walter F. Mondale, Former Vice President 1977-1981 and US Ambassador to Japan 1993-1996, Honorable Robin Chandler Duke, Former U.S. Ambassador to Norway and Founder of the United States-Japan Foundation, and Mr. Minoru Makihara, Senior Corporate Advisor, Mitsubishi Corporation and past Chairman of the U.S.-Japan Conference on Cultural and Educational Interchange.